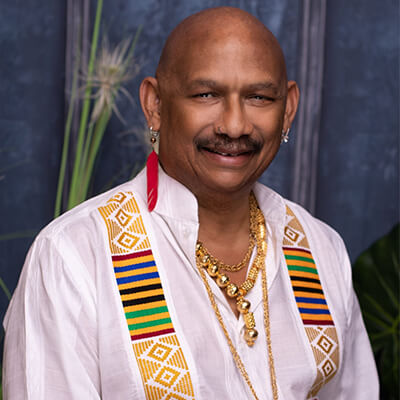 Ben Brako is a name that will always be synonymous with contemporary High-Life music, not only in his beloved homeland of Ghana, but all over the world.
Credited with modernizing the distinctive Ghanaian art form of Highlife, Ben Brako has seen it all and delivers an undeniable sound with every project, performance and collaboration.
NAME: Nana Kobena Kyerematen, The Safohene of Gomoa Assin Mampong.
OFFICIAL NAME: Bernard George Brako
DATE AND PLACE OF BIRTH: 20th May 1952, Accra, Ghana
EDUCATION:
Primary Schools:
Phillip Quarcoe Boys School, Cape Coast.
St John's Preparatory and Primary School, Accra
Don Bosco Middle School, Winneba
Casely-Hayford Middle School, Axim Road, Takoradi
St Augustine's Practice School, Cape Coast
Seconday Schools:
St Augustine's College, Cape Coast. O-Levels
Tema Secondary School, Tema. A-Levels
Tertiary Schools:
University of Ghana, Legon. BSc. Agricultural Science
UEL, London. BSc Media and Communications (IT)
AWARDS:
Leisure Ghana Music Awards 1988: Album of the year.
Leisure Ghana Music Awards 1988: Musician of the year.
ECRAG Awards 1990: Innovation and Creativity in Highlife music
Obama Awards 2012: Lifetime Achievement.
Ghana Peace Awards 2016: Inspiration in Cultural Patriotism and Development.
Time and again, he has earned the privilege of seeing his name added to the legends of the music industry.
His Humble beginnings as one of eight children found him performing even as a child from age 10. He honed his talents on the Ghanaian music scene while still in school. He enjoys a popularity that reaches all the way back to the sixties, back to his days as a student at Augustine's College in Cape Coast, where he became the lead singer for the then nationally acclaimed School Band "Famous Flames" with whom he became the first ever Ghanaian to rise to teenage pop stardom. The formidable talent and prowess of a young Ben Brako and his fellow bandmates led to the "Famous Flames" being in high demand in the country, as they blazed a trail and made a significant impact in the music industry.
After completing his O-levels at St. Augustine's college, Ben Brako left his native Cape Coast and moved on to sixth form at Tema Secondary School where he obtained his A- level qualifications. At this point in his storied journey, Ben was still performing nationally with the "Famous Flames" as well doing televised solo performances. He played with the band professionally during the long vacations till 1971. 
Ben Brako's next stop on his educational path was the University of Ghana to pursue a BSc. (Hons.) in Agricultural Economics. Even then he was still actively involved in music and surprised very few when he formed another brilliant band called "Agoromba Gudo Reba" in 1974/75. The band only performed Ben's compositions apart from a couple of compositions by the legendary Ephraim Amu.
Outside of music Ben was the Commercial Manager for Alpha West Africa Shipping Lines, Tema between 1977 and 1981. He also had a spell teaching at Achimota School where he taught Agricultural Science between 1976 and 77. From 1981 to 1983 he was the Administrative Manager at Film Africa Ltd in Accra. He moved on to become the owner and CEO of Commercial Consultancy Centre in Accra in 1983.
In 1986, after a long period of success at various professions and businesses, Ben Brako still felt empty and unfulfilled. As a result, he abandoned his businesses and high flying lifestyle in Ghana and moved to London to embark on a professional music career. His tireless efforts were rewarded with the critical and popular acclaim he received for his first music recording that would make history and change a whole music genre. This first album, Baya, remains a top seller even till now. This album won him both "Album of the year" and "Artiste of the year" Leisure Ghana Music Awards in 1988, among many others. While in London he also studied for a   B.Sc (Hons) Media and Communications (IT) degree at UEL, London.
After 'Baya' he has recorded and released four studio albums and several hit collaborations with a plethora of talent from all across the world of music. Some of these include Hugh Masakela, Alfred Kariban Bannerman, John K, David Yowell, Obuor, Enox Edu, Victor Mensah, Papa Jay Mensah,  Wutah Cobby, Amandzeba, Bessa Simons, Pat Thomas, Gloria Dwamena, Ofie Cudjoe, Pauline Oduro, Prince Midas, Paulette Broohm, Yomi Sower, Shasha Malley, Steve Bedi, Nasty Tay, Tic Tac, Sony Bali, Ball J, Okyeame Kwame, Spanky Horsoo, Quick Action, Kwame Yeboah and Papa Flava.
His discography includes Baya, Everybody, Siwdu, Adende and One Man No Chop. He has also released compilations like The Best of Ben Brako, Kings of Highlife and Nakasie Highlife Stars.
His single "Shame and Scandal" rose to #1 in the Global Music Charts 5 weeks in a row, in 2019 and in the process broke the record of the number of voted ever received for one track. He has since then released a track called 'Adoma' in the year 2020.
He has played acting roles in a number of feature movies including "No Apologies", Happy Deathday" and "Be My Guest".
In 1999, Ben Brako picked up the ECRAG award for Innovation in High Life Music. He has since picked up many other awards. He also has picked up endorsement deals including deals with Water Aid Ghana and Kasapreko Ghana Ltd.
As a responsible member of society, Ben Brako saw the need to use his success in the industry to make an impact. In and around the year 2000 there was dwindling of the import and impact of High Life in Ghana and nearby countries. Upon his return to Ghana, Ben led an "Initiative for the revival of High Life music", together with the collaboration of other prominent High Life musicians. This initiative aimed at restoring High Life as the main popular music of Ghana and Nigeria, including the revival of the attendant traditional culture, in direct opposition to the Hip Hop culture which was then prevalent. This led to his founding of the NGO "The Hi-Life Institute," which he still runs to this day. 
His philanthropic work did not end there and along with other prominent personalities he co-founded "The Dream Child Foundation." This is a charity that empowers African and Black children all over the world to know that they are equal to, if not better, than any other race, and thus to Dream to become the best they can be in all their endeavors.  'Dream! Child' also raises funds for numerous children's health & nutritional issues. Ben Brako is also the Dream Foundation's current Vice-chairperson. Ben Brako is also a writer, radio journalist and a self-appointed Ambassador and Promoter of Ghanaian and African culture.
Ben is an accomplished artiste who has performed all over the world, gracing the stages in the USA, Canada, UK, Germany, Holland, Belgium, Sweden, France, Scotland, Ireland, Togo, Ivory Coast, Nigeria, Cameroun and of course his very own Ghana, Including recent performances at the Africa Movie Awards (AMA) in Bayelsa State of Nigeria, and at the Vodafone Ghana Music Awards (VGMA).