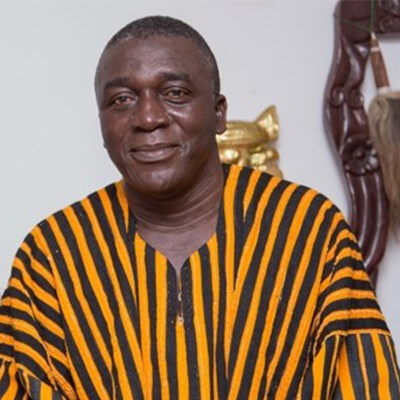 Nana Kobina Nketsia V is the Paramount Chief (Omanhen) of the Essikado (British Sekondi) Traditional Area in the Western Region of Ghana and President of the Traditional Council.
He attended basic education at Mfantsipim High School in Cape Coast in Ghana and obtained his first degree in Morden History from the University of Ghana, referred to as Legon by Ghanaians.
He then obtained Doctor of Philosophy in African History at the University of Calabar in Nigeria.
His areas of special interests are in Pan-Africanism, African Culture and Religion, and Governance, Law and Philosophy.
Nana has written a book titled "African Culture in Governance and Development: The Ghana Paradigm" published by Ghana University Press.
Among a number of recognitions, he has received for outstanding leadership and having contributed significantly to administration and management, the following were bestowed on Nana: Western Region Personality of the Year; Certificate of Appreciation from the PanAfrican Student summit; Fellowship Certificate (Honorary) (FCIA) – The Chartered Institute of Administration and Management Consultants; and Traditional Ruler of the Year (2015) – EXLA Award. Although the sportsman and a committed Pan-Africanist is not a lawyer, he has written several articles on law and holds strong views on the law and Africa's (mal) administration.
Nana wears many hats: he is currently the Chair of Advisory Committee of Care International (Ghana); Chair of Kwame Nkrumah Mausoleum Governing Board; Chair of Water Aid (Ghana); Member of Western Region House of Chiefs (Ghana); Member of National House of Chiefs (Ghana); National Patron ATUU Festival; and Director of Pan African Festival (Panafest) Foundation.
Previously, Nana has chaired and been a participant on several boards, commissions, committees and conferences.
Nana also Chaired GMMB; GBC; Kwame Nkrumah Mausoleum; @002 NAFAC; Care In international (Ghana).
He also served as Commissioner on the PURC; Director of VRA and Patron of the Osagyefo Kwame Nkrumah Awards; Ghana Culture Forum.
This includes being the former Chair of the following: Ghana Museums and Monuments Board; Ghana Broadcasting Corporation; Sekondi-Takoradi Venue Organizing Committee (CAN 2008); and National Planning Committee – National Festival of Arts and Culture (NAFAC).
Moreover, he was the Commissioner of Public Utilities and Regulatory Commission (PURC); Member of Public Emoluments Committee; and Chair of African Regional Conference on Education for Cultural Heritage Development by UNESCO