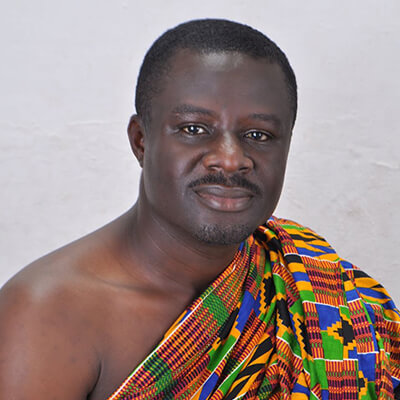 SUMMARY
He is currently a Consultant and Sculptor in charge of Manwere Palace Garden Museum-Manhyia.
An Artist specialized in Sculpture, Concept Development and Creative Writing. Experienced in Developmental Art and Symbolism. A Pan African with deep interest in African Culture and Development. Passion for Charity with a bias for Traditional Development. He is also an Entrepreneur.
SKILL HIGHLIGHTS
Sculpture
Concept Development
Creative Development
Creative Writing
EXPERIENCE
2001- Founder & CEO of Biney- Wilson Consult (Sculpture, Concept Development and Advertising)
Clients – Flagstaff/Jubilee House
Africa Union Secretariat
Manhyia Palace
Ghana Telecom /Vodafone
Mechanical Lloyd
Stanbic Bank
Methodist Church GH
1999-2001-ATAG FieldCoordinator
2001-2002 Executive Secretary, Old Achimotan Association. (OAA)
2002-2004 GM, Jade Jewelers.
2007 – Member, FCA till date
2008 – CPP Parliamentary Candidate, Manhyia Constituency.
2010 – Co-Concept Developer, Republic Bar & Grill, Osu.
2015- Field Coordinator, Forerunners for Christ/Charity Organization)
2015 – Authored over 50 Articles on Culture, Politics, PanAfricanism and Development.
2018-2019 GM, GEP Consultants (Occupational Health and Safety)
2019 – Patron, Greater Accra Mass Choir.
EDUCATION
1980-1986 University Primary, Ksi.
1986-1991 Achimota School
1991-1993. Technology Secondary School
1993-1994 UST Library (National Service)
1995-1999 University of Science and Technology
BA Art (Speciality-Sculpture)
EMBA – INCONCLUSIVE (2006, KNUST)
CERTIFICATES
*Communication Skills (UST)
*Product Development (ATAG)
*Occupational Health and Safety OSH- GEP Consultants.
HOBBIES
*Enjoying Greenery, Water Bodies and Natural Landscapes
* Pool/Billards
PLACE OF BIRTH
KATH – Kumasi
DATE OF BIRTH
11 October 1973.